Safe & Durable Vinyl-Encased Playsets
Our vinyl-encased play sets are safe and durable. Are made in the heart of Amish country by Amish craftsman. Playsets that your family can enjoy to make memories for years to come. We use poly and vinyl-encased, treated lumber so that our structures can withstand any weather condition! Rot proof and splinter-free!
Poly lumber is environmentally friendly as well as long-lasting and low maintenance. High density Poly lumber is used on the decks, rails, and trim. Our goal is to provide you with an environmentally safe, low maintenance swing set. All our Vinyl-encased playsets are handmade by Amish craftsmen and have up to a 20 year limited warranty. Accessories are warranted for 5 years.
Below are some popular Vinyl-Encased Playsets. Hundreds more combinations are available. Visit our 'Shop Online/Vinyl Playsets' section to see pricing.
Mighty Max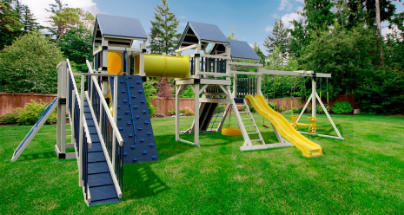 The Hideaway Playhouse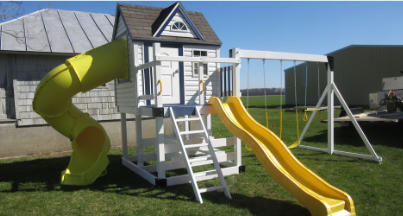 Monkey Bar Slide Stand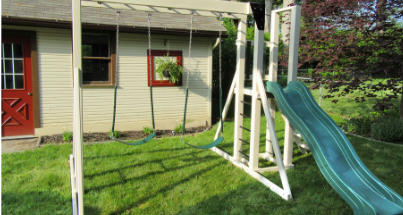 Weaver Playsets LLC warrants to the original owner at the original installation address, all structural components such as pvc vinyl, treated wood and poly deck and rail materials are covered by a 20 year warranty. All slides, swings, roof canopies, and accessories are warranted for 5 years from date of original owner. This warranty does not cover wear and tear, failure to properly maintain the product, or damage resulting from misuse, or abuse, or acts of God. Any alteration, addition, or relocation of this product, or if the playset is more than 2 inches off level, will void this warranty. Weaver Playsets LLC reserves the right to make design and construction changes without notice. Warranty does not include surface rust on metal parts and chains, links, etc. *Swingsets must be level.